Anti aging helps to heal and restore the body deep down to the cellular level.
Anti aging helps to heal and restore the body deep down to the cellular level.
How good is it? If people… canslow down the aging processand slow down the deterioration of the body, includingdisease resistancethings that can be caused by age Not only superficial, but also deep down to the cellular level which the latest discovery of the medical science community can be done as wellNAD+" or otherwise known as "fountain of youth"
---
NAD+ Cell Therapy
NAD Plus is ( Nicotinamide Adenine Dinucleotide Plus Cell Therapy ) substances found in every cell of the body It is a vitamin B3 derivative that promotes cell regeneration. It is also an important compound for the human body to help repair DNA, repair cells, and improve cell metabolism. It is necessary for a long life. Help slow down the aging process and delay the onset of various diseases related to age
" Taking care of yourself and your health. NAD+ is
One of the great advances in medical science. and very useful
due toHelp restore and fix the system of the body.
to overcome aging at the cellular level Helps to feel back to being young again "
Discovery of NAD+ Cell Therapy
NAD+ was first discovered in 1906 or more than 100 years ago and is known among scientists. With continuous studies, the knowledge of NAD+ is increasing. Dr. David Sinclair ( David Andrew Sinclair ) Professor, Department of Genetics Faculty of Medicine Harvard University United States Advanced genetic sequencing methods can be used to prove that NAD+ activates anti-aging genes. and was named 'Molecule of Youth'
NAD+ is a breakthrough discovery. enabling scientists and physicians to prescribe NAD+ as anti-aging medicine or Anti-Agingin the development of the latest drugs to slow down aging and deterioration of the brain
Benefits of NAD+ Cell Therapy
---
The function of NAD+ is to enhance the efficiency of energy metabolism of every cell in the body.
help slow down
It protects DNA and controls the aging process of body cells. Make a long and healthy life.
It helps the brain work better and stronger.
Helps prevent various diseases caused by age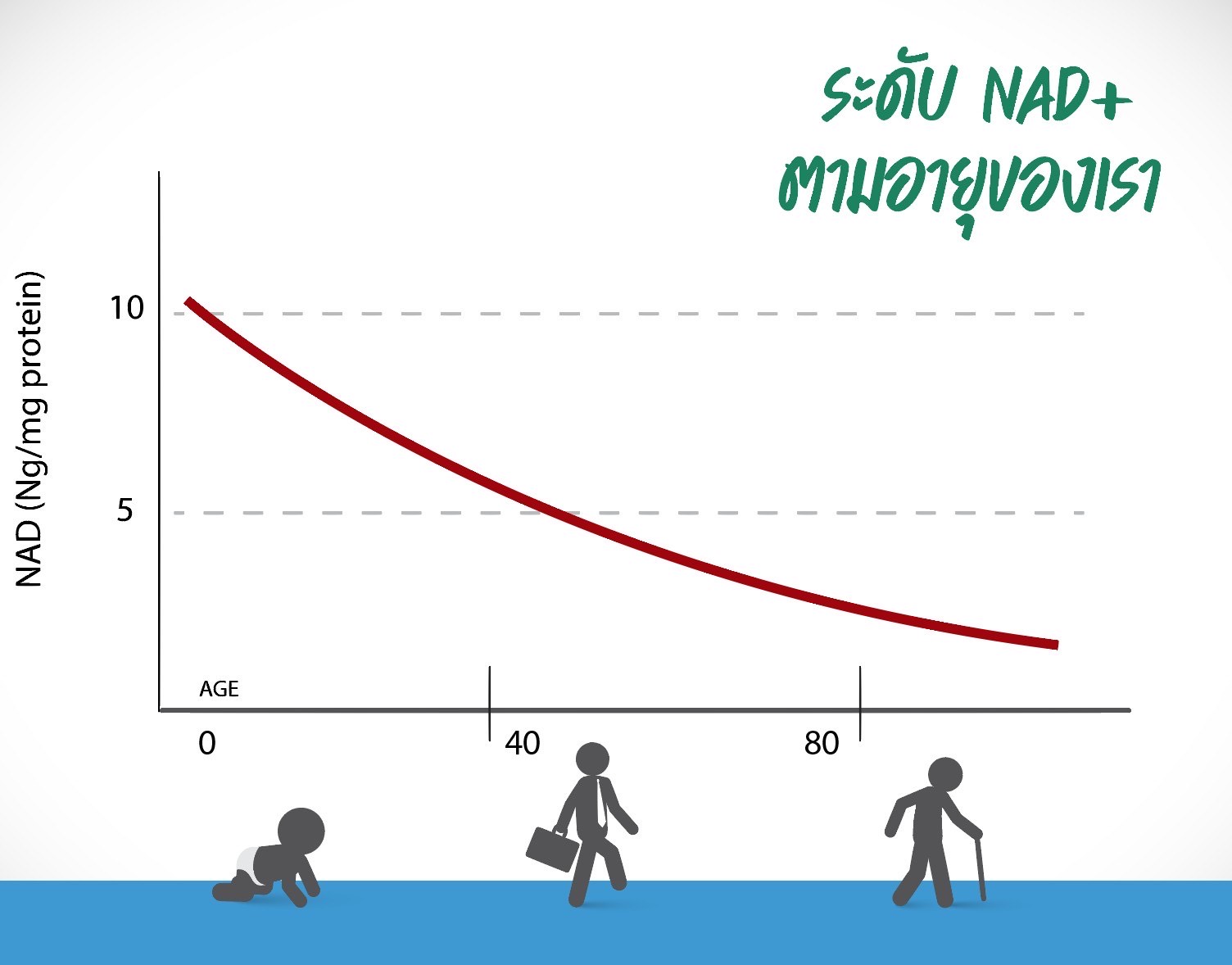 decrease in NAD+ levels in the body
---
The amount of NAD+ in our body that is naturally available in our bodies is constantly decreasing. from increasing age and decreases faster every time we overeat drink too much Staying in the sun too long The loss of NAD+ is inevitable. When the body's NAD+ level decreases, it accelerates the negative side effects of the aging process. NAD+ is an important molecule in the body. which will be lost with life expectancy causing health problems negatively affects the functioning of the brain nervous system deterioration and subsequent memory Including diseases such as dementia loss of vision immunodeficiency muscle disorder Cardiovascular disease, diabetes, obesity, infertility or other problems caused by increasing age
Results after adding NAD+ Cell Therapy
---
feel young
The body is more powerful not easily tired
After exercise, the body recovers faster.
better metabolic system Better efficiency in weight loss and increased muscle mass
It stimulates DNA repair and increases cell energy production.
Rejuvenates and boosts cell immunity Encourage the body to be strong. Resist disease from age deep into DNA
Increases neurotransmitter levels clear the brain Better memory and better brain function
Improved mood, reduced stress
Pain or inflammation is relieved.
improve sleep efficiency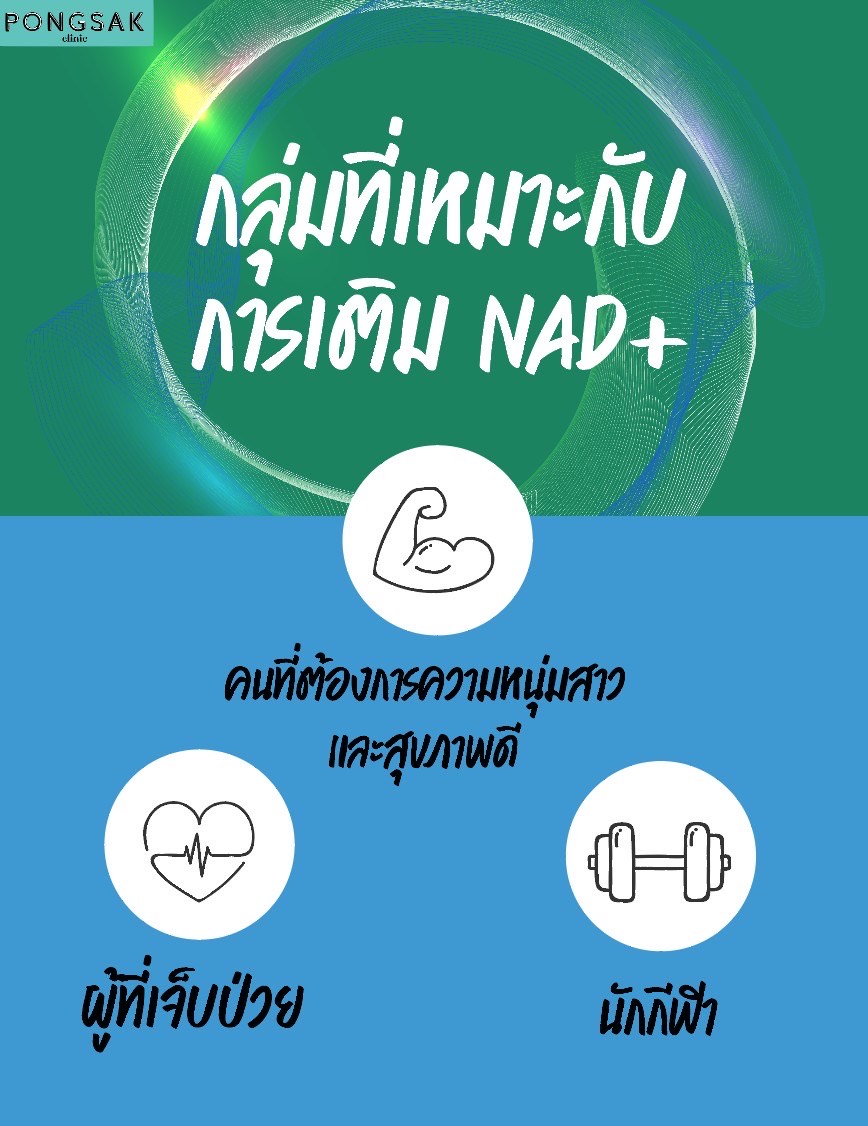 Who is NAD+ suitable for?
---
NAD+ is safe for all ages. However, we will lose NAD+ in the body from the age of 30 and we should start using it from this age. And the older you get, the more NAD+ added. Which people who are suitable for adding NAD+ such as
People over the age of 30 where the body's natural amount of NAD+ begins to decrease.
People who suffer from aging side effects and interested in extending lifespan
Those who suffer from illnesses or diseases related to aging both temporary and chronic
Those who want to revitalize and rejuvenate from feeling tired exhaustion from work strenuous exercise
People who want to restore the functioning of the nervous system
Those who feel that their brains are not clear and want the brain to return to work smoothly
insomniac People who want to restore the strength of various muscles
Those who accelerate weight loss and want to see better results
Additional instructions
---
Each NAD+ supplement takes approximately 30-60 minutes.
NAD+ use averages best results in 2-3 weeks. Most people will feel a clearer mind and physical improvement after just 1-2 uses.
Using NAD+ for its anti-aging effects can take weeks or months of treatment to show significant results.
The addition of NAD+ may cause some side effects such as mild headaches, stomach upsets, etc. The symptoms will disappear in 5-10 minutes, which the doctor will inform the details before the treatment. And while replenishing NAD+, drinking hot tea can help reduce nausea.
People undergoing chemotherapy (chemotherapy) are not advised to add NAD+, despite studies showing that NAD+ has a positive effect on cancer patients. But for the safety of cancer patients, they should recover from the disease before receiving NAD+.
Those who are pregnant or breastfeeding should consult their physician before supplementing with NAD+.
---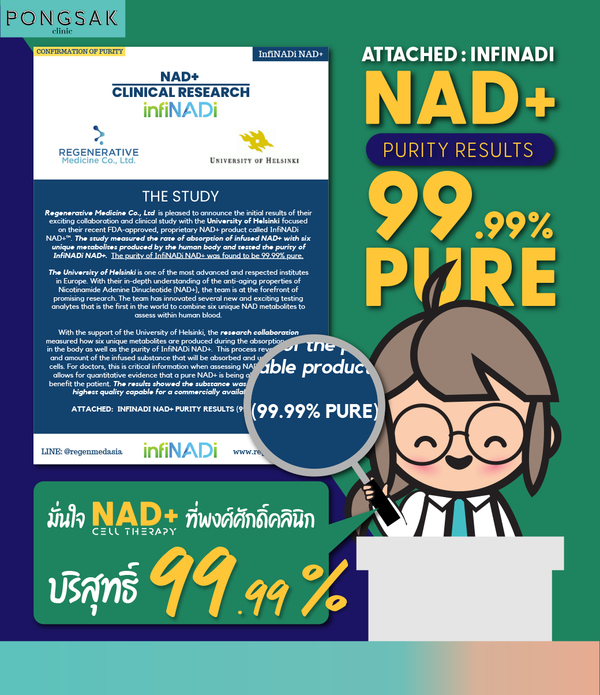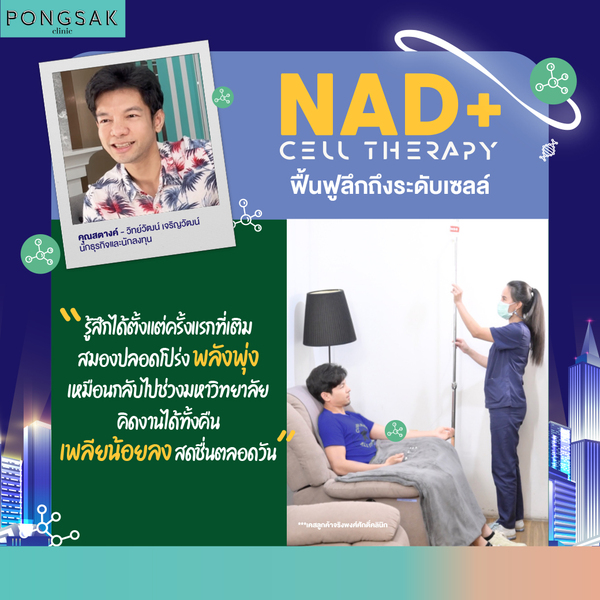 interested in filling NAD+ Cell Therapy, special promotion or consult a doctor for free!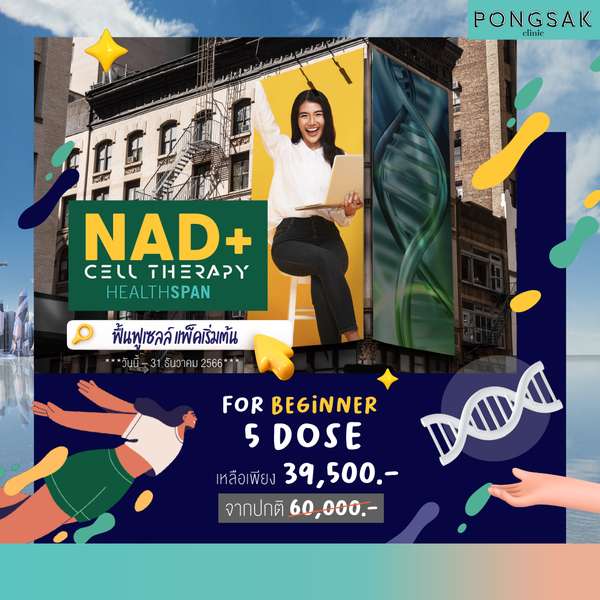 Click on the Line button and type the word " NAD+ "


>> See other promotions, click here <<
FAQ
NAD+ Cell Therapy
NAD+ Cell Therapy (Nicotinamide Adenine Dinucleotide Plus Cell Therapy) is a vitamin that helps slow down aging, anti-aging and rejuvenate the body at the cellular level. acts as a fuel that helps the body work efficiently, which NAD+ is a great medical discovery in the anti-aging or anti-aging field, until it is dubbed NAD+ as a 'young molecule' that helps Slow down the deterioration of the brain and body, even though our body can naturally produce NAD+. But the amount produced by the body decreases gradually with lifespan. Increasing the amount of NAD+ in the body is therefore necessary and very important for anti-aging.
When the body's levels of NAD+ decrease, it accelerates the negative side effects of the aging process, since NAD+ is one of the body's key molecules. which will be lost with life expectancy causing health problems negatively affects the functioning of the brain nervous system deterioration and subsequent memory Including diseases such as dementia loss of vision immunodeficiency muscle disorder Cardiovascular disease, diabetes, obesity, infertility or other problems caused by increasing age